Health Action Council believes healthy communities mean a healthier workforce. We recognize the importance a healthy workforce has on an organization.
Using member data, we identify factors contributing to employee health conditions affecting productivity and employers' profitability. Our value is "connecting the dots", creating insights, and developing dedicated resources to help employees maintain health and achieve quality outcomes. Our actions improve healthcare and health equity, and mitigate costs on several levels – local, regional, and national.
We catalyze mindsets and practices that enable and optimize cultures centered on health, health equity, and well-being. Our initiatives have direct, real-world impact on the workforce today and in the future. They provide relevant knowledge that improves health literacy and leads to informed decisions. From worksite wellness programming, insights into employer best practices, and turn-key toolkits and programs, members have access to a variety of best-in-class partner programs and services.
These data driven initiatives foster improved consumer health literacy and impact employee and community health:
These additional programs focus on specific emerging health trends identified in member utilization data.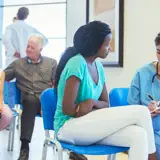 Emergency Room Redirection
The Emergency Room Redirection campaign was designed to educate employees and their communities on how to find the right care setting to save time and avoid costly, unnecessary emergency room visits. Since its launch in 2017, the ER Visits/1000 rate for Health Action Council UHC groups who chose to participate decreased 20%. By comparison, the rate including groups not involved in the annual campaigns increased 9%.
Social Determinant of Health
Today 36% of members have at least one Social Determinant of Health risk and are 24% more expensive than those without a risk. Health Action Council partnered with United Healthcare to implement a dedicated clinical team and custom clinical model which includes increased engagement with members who have been identified as having clinical and SDoH triggers. The teams include dedicated advocates, nurses, case managers, and social workers. Understanding and addressing these conditions helps improve employee well-being and eliminates the 24% benefits cost differential.
Age Related Health Disparities
Health Action Council member companies have a high prevalence of hypertension in their populations. In 2022, Health Action Council launched an initiative to address age related health disparities for hypertension to reduce costs and progression of the disease and improve overall health. Nurses made outreach to 582 Health Action Council Millennial members with hypertension and engaged with 248 of them. This engagement focused on educating the members about the condition, appropriate hypertension management through lifestyle changes, diet and exercise, the importance of medication adherence, and ongoing monitoring. Through this work, the nurse team closed 196 gaps in care for a total estimated PMPM savings of $108. This work will continue as populations are identified.