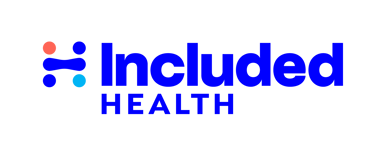 COMPANY OVERVIEW
Included Health is a new kind of healthcare company, delivering integrated virtual care and navigation. We're on a mission to raise the standard of healthcare for everyone.

We are the only complete, connected healthcare delivery platform designed to support the unique care experience of each person. We offer our members care guidance, advocacy, and access to personalized virtual and in-person care for everyday and urgent care, primary care, behavioral health, and specialty care. It's all included.

It's time for better healthcare for all. Your employees Included.
PRODUCTS & SERVICES
Navigation
Fast answers regarding your healthcare benefits and insurance information

Everyday & Urgent Care
See a doctor online in as little as 5 minutes

Primary Care
Choose a doctor who meets your preferences to see virtually whenever you need care
Specialty Care
Guidance for new diagnoses, and specialist-matched expertise and options

Behavioral Health
Meet with a therapist on your phone during your lunch break
Communities
Empowering members to access vetted, culturally-competent care for underserved populations
All-Included Care™
Elevating healthcare for every kind of need, for every kind of person.